WE PUMP CONCRETE EVERYWHERE
Delivering exceptional service for 25 years.
Go to Services
Services
• Line Pumps carry 80+m of line, rated at 52mph. • 32m, Z Fold Boom is rated at 115mph. • We cater from domestic to large commercial projects.
Go to ABOUT
ABOUT
Lance has been pumping concrete for over 25 years starting in Townsville QLD and then relocated to Melbourne where he started Crocker Concrete Pumping and has been growing ever since.
Go to SERVICE AREA
SERVICE AREA
Inner Melbourne, Inner Gippsland, Phillip Island, Mornington Peninsular, South Eastern, Eastern, Western, Northern
About us
Welcome to Crocker Concrete Pumping
Call the experts in Concrete Pumping
Lance has been pumping concrete for over 25 years starting in Townsville, QLD. He relocated to Victoria 20 years ago where Crocker Concrete Pumping was formed and has been growing his family run business ever since into a reliable, respectable member of the Concrete Pumping world.  His number 1 priority is getting there on time, getting the job done hassle free and giving the best service to his valuable customers.
Why choose us
We are a family run business and care about who you are and the service we give to you. Our fleet consists of 3 line pumps and 1 boom pump. All our pumps are fully insured, equiped with a qualified 2 man crew with all relevant documentation on board. Our pumps are clean and serviced regularly ensuring the best service. Our experienced crews can work alongside other trades efficiently so your job is completed on time, every time.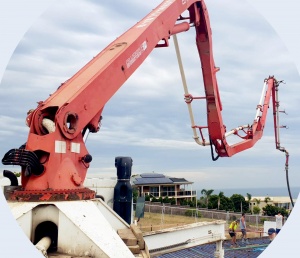 32 meter Z Fold Boom Pump
Our newest addition, Z Fold, 32m Boom. Rated at 115 cubic meters per hour. Fully insured, with ticketed operator and all paperwork on board.
Line Pumps
High Pressure Line Pumps. Rated at 52 cubic meters per hour. Carrying 80+ meters of line ensuring any job can be reached. Line Pumps are fully insured with all documentation on board.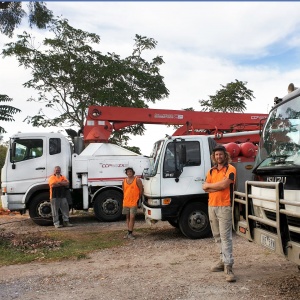 Our Team
You're in good hands with our team of qualified, dedicated, skilled operators and hosemen. They are fully insured and follow OH&S protocol.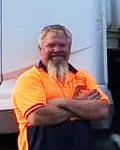 Bookings
Meet Lance, the owner and operator of Crocker Concrete Pumping. With his extensive knowledge of concrete pumping, he'll be sure to give you an accurate quote.
Office
For all your accounts needs, contact Lauralee and she'll be happy to help you. 0407878143
Reviews
Here are some great reviews we've received